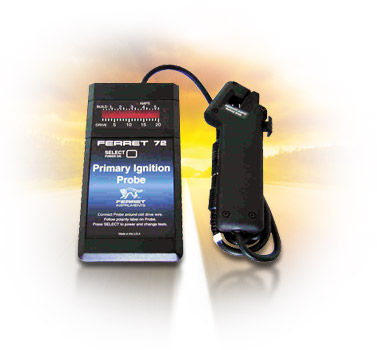 Test Ignition Coils and Modules without piercing wires or backprobing connectors.  Can be used on Distributor, DIS, Coil near Plug, and Coil on Plug Ignitions.



Labscope Capability
The Ferret 72 is equipped with a BNC connector that allows connection to most labscopes and graphing multimeters.  Use the capabilities of the labscope to view the amperage waveform.



Current Ramping Technology
Find defects in ignition coils and modules by using current ramping measurements.  Peak amps measures the amperage required to drive the ignition coil.  Drive Time measures the on time of the module.  Build Time measures the time it takes the amperage to reach its maximum.



Measurement Ranges:
Build time ............... 0 to 5 milliseconds
Drive time .............. 0 to 20 milliseconds
Peak Amps ............. 0 to  15 Amps
Physical Dimensions:
Operating Temp .......4° to 44° C ... 35° to 120° F
Storage Temp ....-30° to 60° C ...-20° to 140° F
Case Size .... 8.4x15.7x3.0 cm ... 3.3x6.1x1.2 in.
Lead Length ........ 2.5m ....... 8 Feet
Weight ......... 0.9 kg ..... 2 pounds
Power Requirements ....... 9 Volt Internal Battery