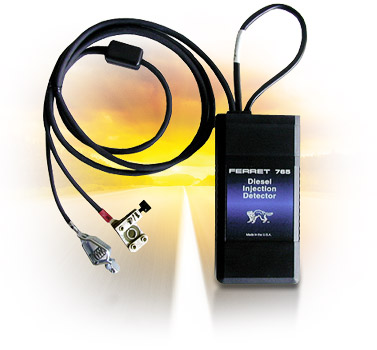 Piezo Clamp
Clamps around a 1/4" (6.35mm) fuel line, senses the pulse of fuel to #1 cylinder, and triggers the timing light or engine analyser.  Works with any Ferret product that has a Cylinder #1 pickup.



Direct Communication/Inductive Connection
The Ferret 764 directly connects to any Ferret product in place of the Spark Pickup.  The Ferret 765 connects to any analyser, Ferret or otherwise, that has an inductive spark pickup.



Indicator Light
Flashes when signal is detected from the Piezo Clamp.



9V Battery Powered
Internal battery eliminates the need for power leads.



Engine Compatibility
Works on Diesel engines with 1/4" external fuel lines.  Other size fuel lines are supported using different sized piezo clamps that are available separately.



Available Piezo Clamps:
M764-90 .................... 1/4"
M764-95 .................... 6.5mm
M764-96 .................... 6.0mm
Physical Dimensions:
Operating Temp ....... 4 - 44ºC .... 35 - 120ºF
Storage Temp ...  -30 - 60ºC .... -20 - 140ºF
Case Size .... 6.0x12.0x2.5 cm ... 2.3x4.7x1 in.
Weight ........ 0.9 kg ....... 2 pounds
Power Requirements ...... 9V Internal Battery