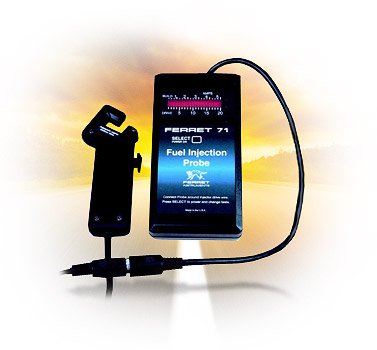 Test Fuel Injectors without piercing wires or backprobing connectors.  Connect to an individual injector or a bank of injectors.



Labscope Connectivity
The Ferret 71 is equipped with a BNC connector that allows connection to most labscopes and graphing multimeters.  Use the capabilities of the labscope to view the amperage waveform.



Current Ramping Technology
Easily locates open or shorted injectors by using current ramping measurements.  Peak amps measures the amperage required to drive the injector.  Drive Time measures the on time of the injector.  Build Time measures the time it takes the amperage to reach its maximum.



Measurement Ranges
Build Time: 0 to 5 Milliseconds
Drive Time: 0 to 20 Milliseconds
Peak Amps: 0 to 5 Amps, 0 to 20 Amps
Physical Dimensions
Operating Temp: 4° to 44° C (35° to 120° F)
Storage Temp: -30° to 60° C (-20° to 140° F)
Case Size: 8.4x15.7x3.0 cm (3.3x6.1x1.2 in.)
Lead Length: 2.5m (8 Feet)
Weight: 0.9 kg (2 pounds)
Power Requirements: 9 Volt Internal Battery