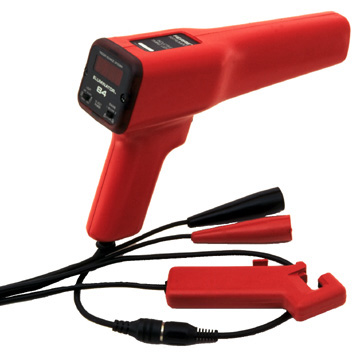 This Eluminator Optic xenon stroboscope features an extraordinarily brilliant flash and is built for high performance, heavy duty professional use. High efficiency power conversion lets the light run cooler for a long working life.

The bright digital display shows RPM with the flash off, and Degrees Advance while flashing. Timing Advance Control Buttons are conveniently located on the handle allowing easy, one-handed operation. A 2/4 stroke switch scales readings for double-ended coil or distributor ignitions. Hook-up is simple with the Inductive Spark Pickup. Dependable spark sensing is assured by electronics engineered for the broadest range of ignition types. The inductive pickup is plug-in replaceable for easy service.

The light is constructed of rugged, impact-resistant materials. It has a comfortable handle grip and a narrow barrel, which makes it easy to project light between engine belts and brackets. Quality engineered and made in the USA.

Eluminator Timing Lights are simply the best you can buy. Designed to stay in service under harsh conditions longer than any other competitive timing light.



Operating Specifications:
Advance: 0 to 90 degrees, 4 Stroke / 0 to 45 degrees, 2 Stroke
Tachometer: 500 to 9,990 Rpm
Power: 10 to 16 Volts DC 12 volt battery
Temperature:
Operating: 0° to 122° F (-18° to 50° C)
Storage: -40° to 180° F (-40° to 80° C)
Weight & Dimensions:
Leads: 5 feet / 1.5m
Weight: 1.5 pounds / 650gm
Size: 12" (Tip to tip) x 2.8"wide / 30 x 7cm