The Ferret 83 is a rechargeable (NiMH Battery) dial advance timing light ideal for high performance engine timing advance measurements.  The large calibrated 60° dial provides 1.5° accuracy and easy operation.  Can be used on distributorless, distributor, multistrike, and marine ignition systems. 
Ideal for timing racing engines, small engines, industrial engines, and automotive engines. The unique RPM LED aids in timing measurements by indicating the approximate test RPM.  Simply turn the indicator knob until the LED in the upper right hand corner is blinking and multiply by 100.  If the indicator knob is pointing at 15, the engine is running at 1,500 RPM.
A Trigger Event indicator is located on the upper left hand corner of the back panel.  It will flash whenever a spark event is detected.  Use this indicator to ensure you have a good spark pickup signal. The 83 is packaged in a molded storage case with a spark pickup, recharging transformer, and instruction manual. Rechargeable Battery Powered.  RPM Indicator. Storage case included.
 Plug-In Field replaceable Spark Pickup. Quality engineered and made in USA.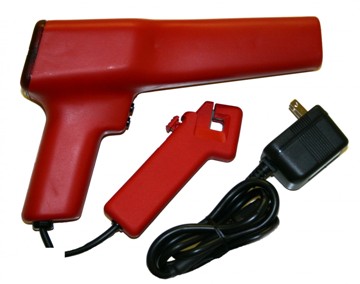 Operating Specifications
Scale Range Resolution/Accuracy
Analog Advance .................to 60 degrees ....0.5 degree ± 1 degree

Digital Advance ..................to 90 degrees ....0.5 degree ± 1 degree

Tachometer .....................400 to 9,990 rpm ...............10 rpm ± 1 %

Power Source....Rechargeable NiMH Battery
Temperature 
Operating: 0° to 122° F (-18° to 50° C)
Storage: -40° to 180° F (-40° to 80° C)
Weight & Dimensions
Leads: 5 feet / 1.5m
Weight: 1.7 pounds / 770gm
Size: 12" (Tip to tip) x 2.8"wide / 30 x 7cm